Special Police Training:
1. Counter-terrorist, Emergency handling.
2. Arresting skills.
3. Sniper training.
4. Anti - explosion.
5. Anti - hijacking, Anti-kidnapping.
6. Practical application of truncheons.
7. Negotiator training (negotiating skills and Criminal psychology analysis when hostage-taking takes place).
8. Provide systematic, comprehensive skills training according to special police characteristics.
9. Special police pre-Entrance Examination training.
10. Various Police Big Contest programs improvement training.
11. Organizing local Police Contests.
12. Firearms practical application.
13. Assault tactics.
14. Group search and emergency response.
15.Inquiry and question.
16. Body checking and escort.
17. Quickly applying handcuffs and taking away.
18. Set checkpoint, cut off and vehicles checking.
19. Special driving.
20.Response to violent crime.
21. Response to raiding police by violence.
22. Urban anti-terrorism.
23. Response to mass disturbance.
24. Response and treatment to riot.
Railway police training:
25. Railway police service work in emergency handling skills training for the railway police during their service.
26. Arresting skills training against pickpockets for the railway police and special police.
27. Training for the railway police on guard duty in the professional skills, VIP protection.
28. Arresting skills in controlling gangsters and preventing crimes.
29. Pre-post skills training for new recruits to the railway police.
30. Response to violence and terrorist attacks in railway station.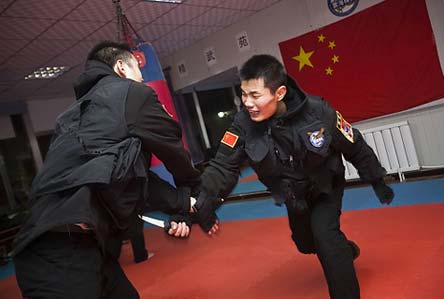 Air police training:
31. Pre-service training for air police.
32. Training in rotation for air police.
33. Anti-hijacking training.
34. Training for air police and security guards to control and combating crimes in narrow and small spaces inside the cabin.
35. Training in rotation for security guards in airlines.
36. In-flight emergency crisis response training.
37. Flight attendant security training.