International Security Defensive College(ISDC),founded in 2011,is the first training base of preventing violent terrorist attacks in China,and which is open to the public.It is also the only private-owned college in the country which provides counter-terrorist training for soldiers and police.
ISDC covers an area of 30 mu and a building area of 27,000 square meters. The training base is very well equipped with advanced hardware facilities. There are classrooms, gymnasium, large indoor fight training hall, outdoor military and police used obstacle course, cold weapons hall, military and police simulated shooting hall. In particular, there are the largest indoor simulated blocks in the country and fire drill, earthquake drill, subway and other simulated sites. Many designs are first made in China and reach the advanced level in the world.
Mission statement: to create secure zone and maintain social harmony.
Goals of college: to develop security experts and build counter-terrorism elites.
Lead the development of the security industry, closely follow the national developmental strategy of "Belt&Road" , step towards the international stage, to become the most professional training body for security and terrorism prevention.
The ISDC has a professional teaching staff , experienced security management team, mature management model and perfect teaching system, which provides a strong guarantee for the strategic development of the Institute.
The instructors of ISDC are all good at many skills and expert in one,with the idea of being capable of teaching, managing, protecting, training and conducting operation,they can achieve a comparatively high level in the implementation of various tasks. At the same time, military and police experts, anti-terrorism experts and security and defense experts at home and abroad are invited to guide the teaching. With rich practical and teaching experience, the professionalism, practicality, accuracy and frontier of the college curriculum are guaranteed. To ensure that each trainee can fully grasp the key points in the three stages of safety risk identification, safety risk avoidance and crisis response, so as to maximize the protection of life safety.
The selection of instructors from the International Security Defensive College comes from the major special forces and outstanding athletes. To become a faculty member of the Institute of International Security and Defense, you have to face enormous challenges and more than 90% elimination rate. You have to undergo a rigorous examination and a severe transformation to become a qualified full-time faculty member. Each of them is politically firm stand, disciplined, reliable and skilled. At the same time, the Defense College attaches great importance to the cultivation of the comprehensive quality of each faculty, and every week will carry out internal training courses, so that every member of the Defense College has the opportunity to learn and improve, and strive to cultivate every member of the Defense College into an international security expert.
College training area is divided into indoor and outdoor two areas, indoor training area for strength training area, fighting hall, cold weapons hall, CQB training area, full scene simulated tactical blocks. The fight hall can accommodate 500 people to carry out practical training, confrontation, simulation training and other training. The cold weapon training area is equipped with training venues for Kendo, archery and flying knives. CQB training ground for military and police training and simulation exercises. Full-scene simulated tactical blocks with streets, residential buildings, gas station, subway station, hotels, hospitals, simulation cabins, etc., can carry out live simulation of teaching scenes more than 300 to assist the college teaching. From the practical point of view, we should carry out the real scene experience teaching mode to achieve the teaching purpose of adding a life in the face of crisis. Outdoor areas include rock climbing, landing, military barrier training area, playground and so on.
The living area of the college is equipped with standard and comfortable dormitories, clean and tidy canteen, simple and bright classrooms, well-equipped fighting halls, real and rich full-scene simulation tactical blocks and outdoor training venues. In addition, the college also has leisure activities area, book bar, coffee shop, four seasons evergreen indoor landscape botanical garden, etc., can meet 500 people to eat, live, training, leisure integration.
The International Institute of Security and Defense has three major training sections, namely, military and police training, security industry training and civil training.
Military&Police Training Course: In order to improve the actual combat skills of the military and police, to protect their own security,and for effective punishment of crime,set up this course. According to the characteristics of various police categories, specific training subjects are set up, including basic quality training, special operations team building, assault training, hostage rescue, response to violent terrorist attacks training, handling emergencies, group incident handling, capture skills training,explosive-handling skills training,dagger countermeasure training. Application of firearms tactical training, extreme physical fitness, climbing drop training, anti-hijacking training courses.
Security Industry Training Course: To standardize security industry standards and improve the quality of industry practitioners, this course is set up. The main courses are: VIP protection training, security officer training, security man training,people protection system, crisis protection tactical system, crisis management, professional quality of enterprise managers,professional skills for security work, team building and project management, site safety management, crowd control and management, key security position management, public place safety management to the stream of people.
Civil training courses: Civil training can be divided into industry training, enterprise unit safety training, targeted people training three major directions. In order to help enterprises and individuals find security solutions, this course provides safety risk management and personal defense technical training for enterprises. The main courses are: enterprise risk management, enterprise safety production management, family safety prevention system establishment, asset safety, response to violent terrorist attacks, home living safety, travel safety, food safety, field survival, robbery prevention, kidnapping prevention, sexual assault prevention, defensive driving training, trauma handling and first aid, natural disaster response, etc.
So far,we have served over 30,000 people,helped over 200 excellent enterprises or institutions provide training and security solutions,including:the Ministry of Foreign Affairs,China Customs,China Water Resources, the China Petroleum Corporation,China Eastern Air Lines,the China Poly Group,China Three Gorges Corporation,China National Offshore Oil Corporation,ICBC,Beijing Municipal Administration of Safety in production ,Civil Aviation General Hospital,Benz Group,IBM,Lenovo Group,Frontier Services Group,Shunxin Holdings,Natural Balance Cycle,Noah Private Wealth Management,Tencent etc.
ISDC devotes itself to upgrade the military&police practical incident handling skill,maintain social harmony and stability,raise social public self-defense ability,lead the formation of industrial standard,help individuals and enterprises build safety protective screen,build security services and anti-terrorist training supermarket.ISDC cares about your safety,teaches you to be your own bodyguard!
Course
Training for special policemen:
1. Training the ability of counter-terrorist and emergency treatment.
2. Arresting skills
3. Sniper training
4. Explosive-removal skills.
5. Anti-hijacking and anti-kidnapping training.
6. Police instruments applications.
7. Negotiation training (negotiating skills and criminal psychology analysis against hostage-taking criminals.
8. Systematic, comprehensive and specific training in accordance with the characteristics of special policemen.
9. Training for special policemen candidates before the entrance examination.
10. Trainings for improvement of various competing subjects according to the competition items in the Special Policemen Contest held by Ministry of Public Security.
11. Organize regional contest of monomial skills for national special policemen.
12. Firearms applications in actual combat.
13. Crucial and shock tactics training.
14. Team searching tactics and emergency treatment.
15. Inquiry and question.
16. Body checking and escort.
17. Quickly putting on handcuffs and taking away.
18. Putting up checkpoints, cutting off and checking vehicles.
19. Special driving training.
20. Dealing with violent crimes.
21. How to cope with the behavior of raiding police by violence.
22. Urban anti-terrorism.
23. Mass disturbance treatment.
24. Response and treatment to riot.
Railway police training::
25. Railway police service work in emergency handling skills training for the railway police during their service.
26. Catching skills training against pickpockets for the railway police and special police.
27. Training for the railway police on guard duty in the professional skills, VIP protection.
28. Capture skills of railway police in controlling gangsters and preventing crimes.
29. Pre-post skills training for new recruits to the railway police.
30. Response to violence and terrorist attacks in railway station.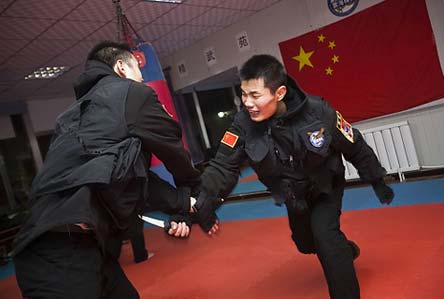 Air police training:
31. Pre-service training for air police.
32. Training in rotation for air police.
33. Anti-hijacking training.
34. Training for air police and security guards to control and combating with crimes in narrow and small space in cabin.
35. Trainings in rotation for security guards in airlines.
36. In-flight emergency crisis response training.
37. Flight attendant security training.
Personal safety training::
38. Personal security course
39. Teaching you how to make your own bodyguard
40. To increase your possibility of survival
41. How to deal with violent terrorist attacks
42. Security training for high net worth group
43. Home security system
44. Family security matters
45. Trip security
46. Travel security
47. Stay safe
48. Traffic safety
49. Food safety on table
50. Survival of the fittest
51. Prevention of tracking and kidnapping and hijacking.
52. To prevent sexual abuse
53. Property management
54. Privacy security. preventing personal information leaks
55. Safe behavior habits
56. How to avoid sports injuries
57. Juveniles life safety courses
58. Female security courses
59. The elderly security guard courses
60. Accident prevention
61. Defensive driving training
62. Trauma treatment and first aid
63. Crime prevention and emergency response
64. Survival skills in extreme weather
65. Self help and response to natural disasters
66. Rescue and evacuation
67. Trauma treatment and first aid
School safety training::
68. Campus security management
69. Campus security equipment construction
70. Response to violence and terror attack in campus
71. Work instructions to campus security personnel
72. Campus emergency drill
73. Prevention and response to stampede in campus
74. Self-rescue and emergency evacuation in fire disasters
Enterprises and groups security training:
75. Establishment of security defense systems in hospitals.
76. Establishment of security defense systems in banks.
77. Establishment of security defense systems in enterprises.
78. Group activities security.
79. Transportation safety.
80. Drugs monitoring and identifying.
81. Fire safety training.
82. Safety check training.
83. Safety protection and emergency response in public places.
84. Military training.
85. Outdoor safety training.
86. Overseas safety and risks management.
87. Outbound security protection and anti-terrorism training.
88. Guide to secure base construction abroad.
89. Logistics security abroad.
90. Crisis response beyond the borders.
91. Rescue beyond the borders and evacuation.
Training of important personage security system:
92.professional course of important personage;
93.risk management.
Security training:
94.Professional quality training of security company manage;
95.Training of business skills training of security work;
96.Security team construction and project management;
97.Workplace safety management;
98.Crowd control and management;
99.Vital and key safety part management;
100.Public staff movement safety management;
101.Impression management of security personnel.
Maritime security training:
102.Safety management of cruise and cargo vessel's marine navigation;
103.Address and anti-robbery of emergency inside vessels;
104.Training of responding to pirate attack.